2010: The Year We Make Contact (commonly called 2010) is a 1984 American science fiction film written and directed by Peter Hyams. It is a sequel to Stanley Kubrick's 1968 film 2001: A Space Odyssey, and is based on Arthur C. Clarke's novel 2010: Odyssey Two, a literary sequel to the film.
Nominations
Plot
In this sequel to 2001: A Space Odyssey, a joint American-Soviet expedition is sent to Jupiter to discover what went wrong with the U.S.S. Discovery against a backdrop of growing global tensions. Among the mysteries the expedition must explain are the appearance of a huge black monolith in Jupiter's orbit and the fate of H.A.L., the Discovery's sentient computer.
Trailer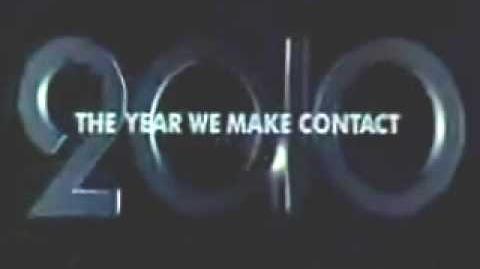 Gallery
Posters
Ad blocker interference detected!
Wikia is a free-to-use site that makes money from advertising. We have a modified experience for viewers using ad blockers

Wikia is not accessible if you've made further modifications. Remove the custom ad blocker rule(s) and the page will load as expected.