A Separation is a 2011 Iranian drama written and directed by Asghar Farhadi, and starring Leila Hatami, Peyman Moaadi, Shahab Hosseini, Sareh Bayat and Sarina Farhadi. The story follows an Iranian middle-class couple who separate, and the experiences which follow when the husband hires a lower-class caretaker for his elderly father.
Wins
Nominations
Nominations
Plot
Set in contemporary Iran, A "Separation" is a compelling drama about the dissolution of a marriage. Simin wants to leave Iran with her husband Nader and daughter Termeh. Simin sues for divorce when Nader refuses to leave behind his Alzheimer-suffering father. Her request having failed, Simin returns to her parents' home, but Termeh decides to stay with Nader. When Nader hires a young woman to assist with his father in his wife's absence, he hopes that his life will return to a normal state. However, when he discovers that the new maid has been lying to him, he realizes that there is more on the line than just his marriage.
Trailer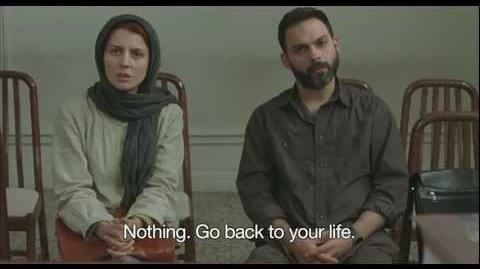 Gallery
Posters
Ad blocker interference detected!
Wikia is a free-to-use site that makes money from advertising. We have a modified experience for viewers using ad blockers

Wikia is not accessible if you've made further modifications. Remove the custom ad blocker rule(s) and the page will load as expected.