Alaska Spirit of the Wild is a American short documentary film featuring the landscape and wildlife of Alaska. It is narrated by Charlton Heston and released to IMAX theaters in 1997. Alaskan wildlife featured in the film include moose, bears, seals, wolves, caribou, and whales, while narrator Heston provides background information.
Nominations
Plot
A look at the Alaskan wilderness throughout the year, from the harsh winters to the rejuvenating spring, and the animals (including its human residents) who learn to adapt to the extremes of Alaskan weather.
Trailer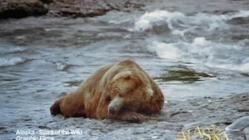 Gallery
Ad blocker interference detected!
Wikia is a free-to-use site that makes money from advertising. We have a modified experience for viewers using ad blockers

Wikia is not accessible if you've made further modifications. Remove the custom ad blocker rule(s) and the page will load as expected.