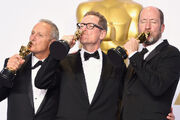 The Academy Award for Best Sound Mixing is an Academy Award that recognizes the finest or most euphonic sound mixing or recording, and is generally awarded to the production sound mixers and re-recording mixers of the winning film.
The Sound Branch of the Academy of Motion Picture Arts and Sciences, until 2006 would use a "bake-off" of the best films from the previous year to decide which films should be referred to the full Academy as nominations for the award. In a rule change on June 30, 2006, the bake-off for the Sound Branch was eliminated, and the usual process of a "preferential ballot" submission was instituted.
The official name of the award has changed several times over the years:
1929 — 1957: Best Sound Recording
1958 — 2002: Best Sound
2003 — present: Best Sound Mixing
Nominees & Winners
1920s
3rd Academy Awards (1929/30)
Winner

Nominees
1930s
1930/31 — 1931/32: No award given to specific films.
6th Academy Awards (1932/33)
Winner

Nominees
7th Academy Awards (1934)
Winner

Nominees
8th Academy Awards (1935)
Winner

Nominees
9th Academy Awards (1936)
Winner

Nominees
10th Academy Awards (1937)
Winner

Nominees
11th Academy Awards (1938)
Winner

Nominees
12th Academy Awards (1939)
Winner

Nominees
1940s
13th Academy Awards (1940)
Winner

Nominees
14th Academy Awards (1941)
Winner

Nominees
15th Academy Awards (1942)
Winner

Nominees
16th Academy Awards (1943)
Winner

Nominees
17th Academy Awards (1944)
Winner

Nominees
18th Academy Awards (1945)
Winner

Nominees
19th Academy Awards (1946)
Winner

Nominees
20th Academy Awards (1947)
Winner

Nominees
21st Academy Awards (1948)
Winner

Nominees
22nd Academy Awards (1949)
Winner

Nominees
1950s
23rd Academy Awards (1950)
Winner

Nominees
24th Academy Awards (1951)
Winner

Nominees
25th Academy Awards (1952)
Winner

Nominees
26th Academy Awards (1953)
Winner

Nominees
27th Academy Awards (1954)
Winner

Nominees
28th Academy Awards (1955)
Winner

Nominees
29th Academy Awards (1956)
Winner

Nominees
30th Academy Awards (1957)
Winner

Nominees
31st Academy Awards (1958)
Winner

Nominees
32nd Academy Awards (1959)
Winner

Nominees
1960s
33rd Academy Awards (1960)
Winner

Nominees
34th Academy Awards (1961)
Winner

Nominees
35th Academy Awards (1962)
Winner

Nominees
36th Academy Awards (1963)
Winner

Nominees
37th Academy Awards (1964)
Winner

Nominees
38th Academy Awards (1965)
Winner

Nominees
39th Academy Awards (1966)
Winner

Nominees
40th Academy Awards (1967)
Winner

Nominees
41st Academy Awards (1968)
Winner

Nominees
42nd Academy Awards (1969)
Winner

Nominees
1970s
43rd Academy Awards (1970)
Winner

Nominees
44th Academy Awards (1971)
Winner

Nominees
45th Academy Awards (1972)
Winner

Nominees
46th Academy Awards (1973)
Winner

Nominees
47th Academy Awards (1974)
Winner

Nominees
48th Academy Awards (1975)
Winner

Nominees
49th Academy Awards (1976)
Winner

Nominees
50th Academy Awards (1977)
Winner

Nominees
51st Academy Awards (1978)
Winner

Nominees
52nd Academy Awards (1979)
Winner

Nominees
1980s
53rd Academy Awards (1980)
Winner

Nominees
54th Academy Awards (1981)
Winner

Nominees
55th Academy Awards (1982)
Winner

Nominees
56th Academy Awards (1983)
Winner

Nominees
57th Academy Awards (1984)
Winner

Nominees
58th Academy Awards (1985)
Winner

Nominees
59th Academy Awards (1986)
Winner

Nominees
60th Academy Awards (1987)
Winner

Nominees
61st Academy Awards (1988)
Winner

Nominees
62nd Academy Awards (1989)
Winner

Nominees
1990s
63rd Academy Awards (1990)
Winner

Nominees
64th Academy Awards (1991)
Winner

Nominees
65th Academy Awards (1992)
Winner

Nominees
66th Academy Awards (1993)
Winner

Nominees
67th Academy Awards (1994)
Winner

Nominees
68th Academy Awards (1995)
Winner

Nominees
69th Academy Awards (1996)
Winner

Nominees
70th Academy Awards (1997)
Winner

Nominees
71st Academy Awards (1998)
Winner

Nominees
72nd Academy Awards (1999)
Winner

Nominees
2000s
73rd Academy Awards (2000)
Winner

Nominees
74th Academy Awards (2001)
Winner

Nominees
75th Academy Awards (2002)
Winner

Nominees
76th Academy Awards (2003)
Winner

Nominees

77th Academy Awards (2004)
Winner

Nominees

78th Academy Awards (2005)
Winner

Nominees

79th Academy Awards (2006)
Winner

Nominees

80th Academy Awards (2007)
Winner

Nominees

81st Academy Awards (2008)
Winner

Nominees

82nd Academy Awards (2009)
Winner

Nominees

2010s

83rd Academy Awards (2010)
Winner

Nominees

84th Academy Awards (2011)
Winner

Nominees

85th Academy Awards (2012)
Winner

Nominees

86th Academy Awards (2013)
Winner

Nominees

87th Academy Awards (2014)
Winner

Nominees

88th Academy Awards (2015)
Winner

Nominees
Related Categories