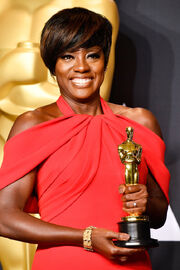 Performance by an Actress in a Supporting Role is one of the Academy Awards of Merit presented annually by the Academy of Motion Picture Arts and Sciences (AMPAS) to recognize an actress who has delivered an outstanding performance while working within the film industry. Since its inception, however, the award has commonly been referred to as the Oscar for Best Supporting Actress. While actresses are nominated for this award by Academy members who are actors and actresses themselves, winners are selected by the Academy membership as a whole.
History
Throughout the past 76 years, accounting for ties and repeat winners, AMPAS has presented a total of 76 Best Supporting Actress awards to 74 different actresses. Winners of this Academy Award of Merit currently receive the familiar Oscar statuette, depicting a gold-plated knight holding a crusader's sword and standing on a reel of film. Prior to the 16th Academy Awards ceremony (1943), however, they received a plaque. The first recipient was Gale Sondergaard, who was honored at the 9th Academy Awards ceremony (1936) for her performance in Anthony Adverse. The most recent recipient was Octavia Spencer, who was honored at the 84th Academy Awards ceremony (2012) for her performance in The Help.
Until the 8th Academy Awards ceremony (1935), nominations for the Best Actress award were intended to include all actresses, whether the performance was in either a leading or supporting role. At the 9th Academy Awards ceremony (1936), however, the Best Supporting Actress category was specifically introduced as a distinct award following complaints that the single Best Actress category necessarily favored leading performers with the most screen time. Nonetheless, May Robson had received a Best Actress nomination (Lady for a Day, 1933) for her performance in a clear supporting role. Under the system currently in place, an actress is nominated for a specific performance in a single film, and such nominations are limited to five per year. Currently, Best Actor, Best Actress, Best Supporting Actor, and Best Supporting Actress constitute the four Academy Awards of Merit for acting annually presented by AMPAS.
Nominees and winners
9th Academy Awards (1936)
10th Academy Awards (1937)
11th Academy Awards (1938)
12th Academy Awards (1939)
1940s
13th Academy Awards (1940)
14th Academy Awards (1941)
15th Academy Awards (1942)
16th Academy Awards (1943)
17th Academy Awards (1944)
18th Academy Awards (1945)
19th Academy Awards (1946)
20th Academy Awards (1947)
21st Academy Awards (1948)
22nd Academy Awards (1949)
1950s
23rd Academy Awards (1950)
24th Academy Awards (1951)
25th Academy Awards (1952)
26th Academy Awards (1953)
27th Academy Awards (1954)
28th Academy Awards (1955)
29th Academy Awards (1956)
30th Academy Awards (1957)
31st Academy Awards (1958)
32nd Academy Awards (1959)
1960s
33rd Academy Awards (1960)
34th Academy Awards (1961)
35th Academy Awards (1962)
36th Academy Awards (1963)
37th Academy Awards (1964)
38th Academy Awards (1965)
39th Academy Awards (1966)
40th Academy Awards (1967)
41st Academy Awards (1968)
42nd Academy Awards (1969)
1970s
43rd Academy Awards (1970)
44th Academy Awards (1971)
45th Academy Awards (1972)
46th Academy Awards (1973)
47th Academy Awards (1974)
48th Academy Awards (1975)
49th Academy Awards (1976)
50th Academy Awards (1977)
51st Academy Awards (1978)
52nd Academy Awards (1979)
1980s
53rd Academy Awards (1980)
54th Academy Awards (1981)
55th Academy Awards (1982)
56th Academy Awards (1983)
57th Academy Awards (1984)
58th Academy Awards (1985)
59th Academy Awards (1986)
60th Academy Awards (1987)
61st Academy Awards (1988)
62nd Academy Awards (1989)
1990s
63rd Academy Awards (1990)
64th Academy Awards (1991)
65th Academy Awards (1992)
66th Academy Awards (1993)
67th Academy Awards (1994)
68th Academy Awards (1995)
69th Academy Awards (1996)
70th Academy Awards (1997)
71st Academy Awards (1998)
72nd Academy Awards (1999)
2000s
73rd Academy Awards (2000)
74th Academy Awards (2001)
75th Academy Awards (2002)
76th Academy Awards (2003)
77th Academy Awards (2004)
78th Academy Awards (2005)
79th Academy Awards (2006)
80th Academy Awards (2007)
81st Academy Awards (2008)
82nd Academy Awards (2009)
2010s
83rd Academy Awards (2010)
84th Academy Awards (2011)
85th Academy Awards (2012)
86th Academy Awards (2013)
87th Academy Awards (2014)
88th Academy Awards (2015)
89th Academy Awards (2017)