Casablanca is a 1942 American romantic drama film directed by Michael Curtiz and based on the unpublished stage play "Everybody Comes to Rick's" by Murray Burnett and Joan Alison. The film stars Humphrey Bogart, Ingrid Bergman, and Paul Henreid; and features Claude Rains, Conrad Veidt, Sydney Greenstreet, Peter Lorre, and Dooley Wilson.
Wins
Nominations
Plot
In World War II Casablanca, Rick Blaine, exiled American and former freedom fighter, runs the most popular nightspot in town. The cynical lone wolf Blaine comes into the possession of two valuable letters of transit. When Nazi Major Strasser arrives in Casablanca, the sycophantic police Captain Renault does what he can to please him, including detaining a Czechoslovak underground leader Victor Laszlo. Much to Rick's surprise, Lazslo arrives with Ilsa, Rick's one time love. Rick is very bitter towards Ilsa, who ran out on him in Paris, but when he learns she had good reason to, they plan to run off together again using the letters of transit. Well, that was their original plan...
Trailer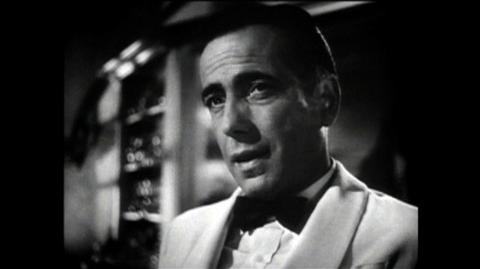 Gallery
Posters
Ad blocker interference detected!
Wikia is a free-to-use site that makes money from advertising. We have a modified experience for viewers using ad blockers

Wikia is not accessible if you've made further modifications. Remove the custom ad blocker rule(s) and the page will load as expected.