Chasing Ice


1 Nomination
Year
2012
Director
Jeff Orlowski
Writer
Mark Monroe
85th Academy Awards
Chasing Ice is a 2012 American feature documentary film following the efforts of National Geographic photographer James Balog to document receding glaciers and form a visible and undeniable record of the effects of global warming. While the film was shortlisted as a possible finalist for the Best Documentary Feature category, it received instead an Oscar nomination for the song "Before My Time", written by J.Ralph and performed by Joshua Bell and Scarlett Johansson.
Nominations
Synopsis
'National Geographic' photographer James Balog was once a skeptic about climate change. But through his Extreme Ice Survey, he discovers undeniable evidence of our changing planet. In 'Chasing Ice,' we follow Balog across the Arctic as he deploys revolutionary time-lapse cameras designed for one purpose: to capture a multi-year record of the world's changing glaciers. Balog's hauntingly beautiful videos compress years into seconds and capture ancient mountains of ice in motion as they disappear at a breathtaking rate. Traveling with a young team of adventurers by helicopter, canoe and dog sled across three continents, Balog risks his career and his well-being in pursuit of the biggest story in human history. As the debate polarizes America and the intensity of natural disasters ramp up around the world, 'Chasing Ice' depicts a heroic photojournalist on a mission to gather evidence and deliver hope to our carbon-powered planet.
Trailer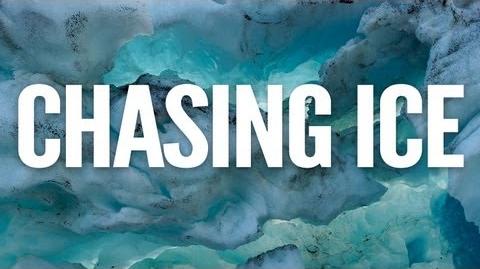 Gallery
Ad blocker interference detected!
Wikia is a free-to-use site that makes money from advertising. We have a modified experience for viewers using ad blockers

Wikia is not accessible if you've made further modifications. Remove the custom ad blocker rule(s) and the page will load as expected.