Coraline is a 2009 British-American stop-motion 3D horror/fantasy film based on Neil Gaiman's 2002 novel of the same name. It was produced by Laika and distributed by Focus Features. Written and directed by Henry Selick.
Nominations
Plot
When Coraline moves to an old house, she feels bored and neglected by her parents. She finds a hidden door with a bricked up passage. During the night, she crosses the passage and finds a parallel world where everybody has buttons instead of eyes, with caring parents and all her dreams coming true. When the Other Mother invites Coraline to stay in her world forever, the girl refuses and finds that the alternate reality where she is trapped is only a trick to lure her.
Trailer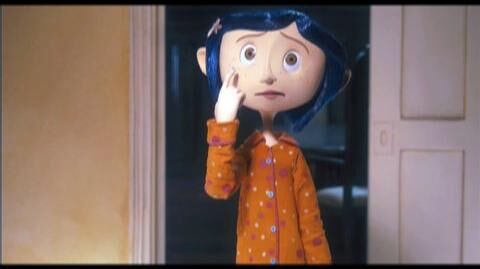 Gallery
Posters
Ad blocker interference detected!
Wikia is a free-to-use site that makes money from advertising. We have a modified experience for viewers using ad blockers

Wikia is not accessible if you've made further modifications. Remove the custom ad blocker rule(s) and the page will load as expected.