Dogtooth is a 2010 film directed by Yorgos Lanthimos about a husband and wife who keep their children ignorant of the world outside their property well into adulthood. The Greek drama stars Christos Stergioglou, Michelle Valley, Aggeliki Papoulia, Mary Tsoni and Christos Passalis. Dogtooth is Lanthimos' second feature film as solo director. The film won the Prix Un Certain Regard at the 2009 Cannes Film Festival and was nominated for Best Foreign Language Film at the 83rd Academy Awards.
Nominations
Plot
Three teenagers are confined to an isolated country estate that could very well be on another planet. The trio spend their days listening to endless homemade tapes that teach them a whole new vocabulary. Any word that comes from beyond their family abode is instantly assigned a new meaning. Hence 'the sea' refers to a large armchair and 'zombies' are little yellow flowers. Having invented a brother whom they claim to have ostracized for his disobedience, the über-controlling parents terrorize their offspring into submission. The father is the only family member who can leave the manicured lawns of their self-inflicted exile, earning their keep by managing a nearby factory, while the only outsider allowed on the premises is his colleague Christina, who is paid to relieve the son of his male urges. Tired of these dutiful acts of carnality, Christina disturbs the domestic balance.
Trailer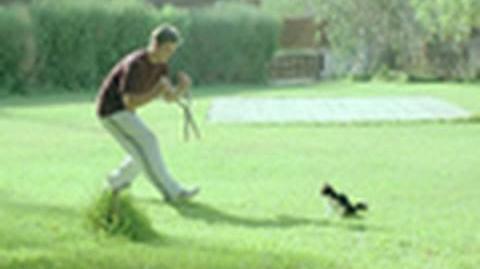 Gallery
Posters
Ad blocker interference detected!
Wikia is a free-to-use site that makes money from advertising. We have a modified experience for viewers using ad blockers

Wikia is not accessible if you've made further modifications. Remove the custom ad blocker rule(s) and the page will load as expected.