Home Alone is a 1990 American family comedy film written and produced by John Hughes and directed by Chris Columbus. As of 2009, Home Alone was the highest-grossing comedy of all time.
Nominations
Plot
It is Christmas time and the McAllister family is preparing for a vacation in Paris, France. But the youngest in the family named Kevin got into a scuffle with his older brother Buzz and was sent to his room which is on the third floor of his house. Then, the next morning, while the rest of the family was in a rush to make it to the airport on time, they completely forgot about Kevin who now has the house all to himself. Being home alone was fun for Kevin, having a pizza all to himself, jumping on his parents' bed, and making a mess. Then, Kevin discovers about two burglars, Harry and Marv, about to rob his house on Christmas Eve. Kevin acts quickly by wiring his own house with makeshift booby traps to stop the burglars and to bring them to justice.
Trailer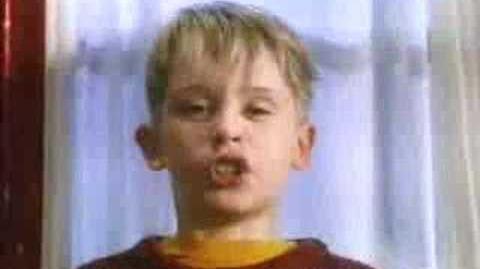 Gallery
Posters
Ad blocker interference detected!
Wikia is a free-to-use site that makes money from advertising. We have a modified experience for viewers using ad blockers

Wikia is not accessible if you've made further modifications. Remove the custom ad blocker rule(s) and the page will load as expected.