Jane Eyre is a 2011 British romantic drama film directed by Cary Joji Fukunaga and starring Mia Wasikowska and Michael Fassbender. The screenplay is written by Moira Buffini based on the 1847 novel of the same name by Charlotte Brontë.
Nominations
Plot
Jane Eyre flees Thornfield House, where she works as a governess for wealthy Edward Rochester. As she reflects upon the people and emotions that have defined her, it is clear that the isolated and imposing residence - and Mr. Rochester's coldness - have sorely tested the young woman's resilience, forged years earlier when she was orphaned. She must now act decisively to secure her own future and come to terms with the past that haunts her - and the terrible secret that Mr. Rochester is hiding and that she has uncovered...
Trailer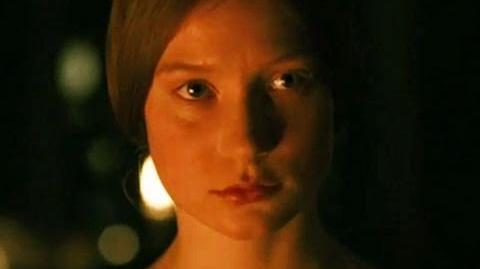 Gallery
Posters
Ad blocker interference detected!
Wikia is a free-to-use site that makes money from advertising. We have a modified experience for viewers using ad blockers

Wikia is not accessible if you've made further modifications. Remove the custom ad blocker rule(s) and the page will load as expected.