King Kong is a 2005 epic adventure film and remake of the 1933 film of the same name. Directed, co-written and produced by Peter Jackson, the film stars Naomi Watts as Ann Darrow, Jack Black as Carl Denham, Adrien Brody as Jack Driscoll and, through motion capture, Andy Serkis as the title character. Serkis also played Lumpy, the galley chef on the SS Venture.
Wins
Nominations
Plot
Carl Denham needs to finish his movie and has the perfect location; Skull Island. But he still needs to find a leading lady. This 'soon-to-be-unfortunate' soul is Ann Darrow. No one knows what they will encounter on this island and why it is so mysterious, but once they reach it, they will soon find out. Living on this hidden island is a giant gorilla and this beast now has Ann is its grasps. Carl and Ann's new love, Jack Driscoll must travel through the jungle looking for Kong and Ann, whilst avoiding all sorts of creatures and beasts. But Carl has another plan in mind.
Trailer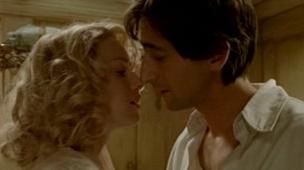 Gallery
Posters
Ad blocker interference detected!
Wikia is a free-to-use site that makes money from advertising. We have a modified experience for viewers using ad blockers

Wikia is not accessible if you've made further modifications. Remove the custom ad blocker rule(s) and the page will load as expected.