Man on Wire


1 Nomination / 1 Win
Year
2008
Director
James Marsh
Starring
Philippe Petit, Jean François Heckel, Jean-Louis Blondeau
81st Academy Awards
Man on Wire is a 2008 Oscar winning British documentary film directed by James Marsh. It is based on Philippe Petit's book, "To Reach the Clouds", recently released in paperback with the new title "Man on Wire". The title of the movie is taken from the police report that led to the arrest (and later release) of Petit, whose performance had lasted for almost one hour.
Wins
Synopsis
On August 7, 1974, Philippe Petit, a French wire walker, juggler, and street performer days shy of his 25th birthday, spent 45 minutes walking, dancing, kneeling, and lying on a wire he and friends strung between the rooftops of the Twin Towers. Uses contemporary interviews, archival footage, and recreations to tell the story of his previous walks between towers of Notre Dame and of the Sydney Harbour Bridge, his passions and friendships, and the details of the night before the walk: getting cable into the towers, hiding from guards, and mounting the wire. It ends with observations of the profound changes the walk's success brought to Philippe and those closest to him.
Trailer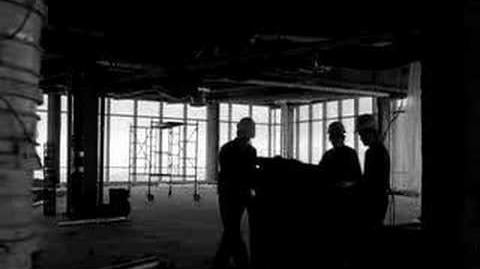 Gallery
Posters
Ad blocker interference detected!
Wikia is a free-to-use site that makes money from advertising. We have a modified experience for viewers using ad blockers

Wikia is not accessible if you've made further modifications. Remove the custom ad blocker rule(s) and the page will load as expected.