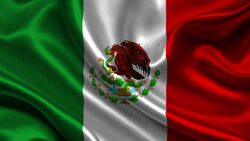 Cinema of Mexico refers to the films made within Mexico, or by Mexican directors. The history of Mexican cinema goes back to the ending of the 19th century and the beginning of the 20th, when several enthusiasts of the new medium documented historical events, most particularly the Mexican Revolution, and produced some movies that have only recently been rediscovered. During the Golden Age of Mexican cinema, Mexico all but dominated the Latin American film industry.
The Guadalajara International Film Festival is the most prestigious Latin American film festival and is held annually in Guadalajara, Mexico. Mexico has twice won the highest honor in the Palme d'Or, having won the Grand Prix for Maria Candelaria in 1946 and the Palme d'Or in 1961 for Viridiana, more than any other Latin American nation. Mexico City is the fourth largest film and television production center in North America, behind Los Angeles, New York City and Vancouver, as well as the largest in Latin America.
Ad blocker interference detected!
Wikia is a free-to-use site that makes money from advertising. We have a modified experience for viewers using ad blockers

Wikia is not accessible if you've made further modifications. Remove the custom ad blocker rule(s) and the page will load as expected.