Mondo Cane


1 Nomination
Year
1962
Director
Gualtiero Jacopetti, Paolo Cavara, Franco Prosperi
Writer
Gualtiero Jacopetti, Paolo Cavara
Starring
Stefano Sibaldi
36th Academy Awards
Mondo Cane (A Dog's World, 1962) is a documentary written and directed by Italian filmmakers Paolo Cavara, Franco Prosperi and Gualtiero Jacopetti. Despite its claims of genuine documentation, certain scenes in the film are either staged or creatively manipulated to enhance this effect.
Nominations
Plot
Nominally a documentary, this film combines a number of unrelated sequences (both real and staged) -- including a South Pacific "cargo cult", the ritual slaughter of a bull, tribal dances and rituals, and a visit to an ornate pet cemetery -- all focused on the lurid, sensational, and eccentric.
Trailer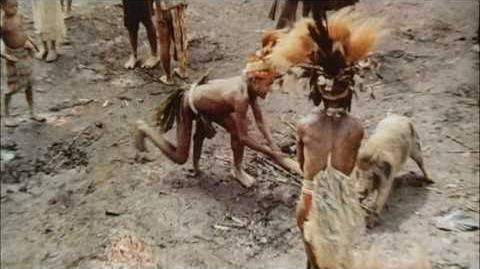 Gallery
Posters
Ad blocker interference detected!
Wikia is a free-to-use site that makes money from advertising. We have a modified experience for viewers using ad blockers

Wikia is not accessible if you've made further modifications. Remove the custom ad blocker rule(s) and the page will load as expected.