Monster House is a 2006 computer animated motion capture horror/comedy film directed by Gil Kenan, produced by ImageMovers and Amblin Entertainment, and distributed by Columbia Pictures. Executive produced by Robert Zemeckis and Steven Spielberg, this is the first time since Back to the Future Part III that they have worked together. It is also the first time that Zemeckis and Spielberg both served as executive producers of a film.
Nominations
Plot
The teenage DJ is observing his neighbor Nebbercracker on the other side of their street in the suburb that destroys tricycles of children that trespass his lawn. When DJ's parents travel on the eve of Halloween and the abusive nanny Zee stays with him, he calls his clumsy best friend Chowder to play basketball. But when the ball falls in Nebbercracker's lawn, the old man has a siege, and soon they find that the house is a monster. Later the boys rescue the smart Jenny from the house and the trio unsuccessfully tries to convince the babysitter, her boyfriend Bones and two police officers that the haunted house is a monster, but nobody believes them. The teenagers ask their video-game addicted acquaintance Skull how to destroy the house, and they disclose its secret on the Halloween night.
Trailer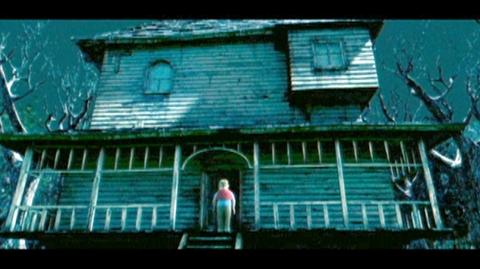 Gallery
Posters
Ad blocker interference detected!
Wikia is a free-to-use site that makes money from advertising. We have a modified experience for viewers using ad blockers

Wikia is not accessible if you've made further modifications. Remove the custom ad blocker rule(s) and the page will load as expected.