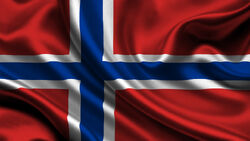 Norway has had a notable cinema industry for some time. In the early 21st century a few Norwegian film directors have had the opportunity to go to Hollywood to direct various independent films. As of 2011, there had been nearly 900 films produced in Norway, with a third of these being made in the last 15 years.
The first Norwegian feature film, Dangers of a Fisherman's Life (1906), was released just after Norway established its independence from Sweden in 1905. Cinema subsequently flourished in the early twentieth century as the most popular entertainment in Norway. However, national film production was largely a cottage industry organized on a municipal basis, with filmmakers struggling to make deals from one film to the next. This system was initiated to encourage greater programming responsibility in each municipality and The Cinema Act of 1913 consolidated this approach. Norwegian cinema was of a smaller scale than neighbouring Sweden and Denmark, but a distinct tradition did emerge, with literary adaptations and romances particularly popular. During the Nazi occupation from 1940, light comedies were the preferred genre.
The 1950s have been claimed as the heyday of Norwegian cinema: anthropologist Thor Heyerdahl's documentary Kon-Tiki (1951), a chronicle of his famous Pacific raft journey, won Norway's only Academy Award for Best Documentary in 1952 and a new generation of filmmakers made their mark, including Arne Skouen and Edith Carlmar. The 1970s witnessed a wave of political filmmaking. The industry fell into decline in the 1980s, with Hollywood dominating the market.
The establishment of the Norwegian Film Fund in 2001 was in part a result of increase in government funding, giving domestic productions a chance to compete with Hollywood. The Norwegian Film School (NFS) opened in 1994, and has played a "significant" role in the rejuvenation of Norwegian cinema. The NFS places an emphasis on the "cultural importance of a local film industry", recalling the ethos of the municipal system and the collaborative nature of filmmaking, as well as reflecting Norway's socialist egalitarian political leanings and the transnational nature of the industry.
Best Foreign Language Film Wins
Ad blocker interference detected!
Wikia is a free-to-use site that makes money from advertising. We have a modified experience for viewers using ad blockers

Wikia is not accessible if you've made further modifications. Remove the custom ad blocker rule(s) and the page will load as expected.