2,881 articles since 7 March 2010.

The 87th Academy Awards will be hosted by Neil Patrick Harris. Watch an interview with him below.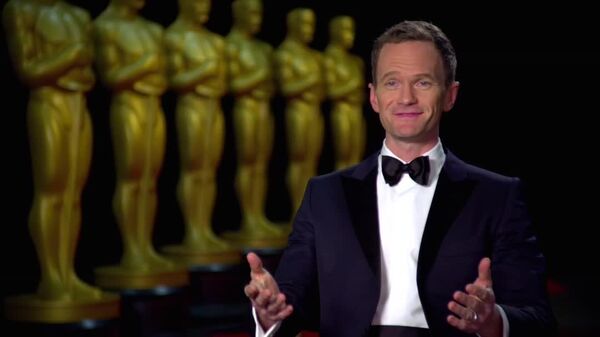 Nominations for the 87th Academy Awards were announced on Thursday, Jan 15, 2015 at 5:30: AM PST. Watch AMPAS President Cheryl Boone Isaacs, actor Chris Pine, and directors Alfonso Cuarón and J.J. Abrams announce the nominations in all 24 Oscar categories.

The 87th Academy Awards ceremony, during which the Academy of Motion Picture Arts and Sciences (AMPAS) will present its annual Academy Awards to honor the best films of 2014, on February 22, 2015 at the Dolby Theatre in Hollywood, California with Neil Patrick Harris as host. Read More...

Trivia
The Hurt Locker sets the record as the lowest grossing movie to win Best Movie in the Oscars
Oliver! is the only G-rated film to win Best Picture (the last G-Rated film to date to be nominated for Best Picture is Toy Story 3)
The "Red carpet" at the Kodak Theatre is about 500 feet long
Kevin O'Connell, the Oscars' unluckiest nominee, holds the record for the most nominations, 20, and no wins.
Until 2010, when Kathryn Bigelow won, no woman had ever won the Oscar for best director
(Source)

Academy News
Loading RSS data...

| | |
| --- | --- |
| Event: | Time: |
| Nominations voting begins | Wednesday, December 30, 2015 |
| Nominations voting ends | Friday, January 8, 2016 |
| Nominations announced at Samuel Goldwyn Theater | Thursday, January 14, 2016 |
| Nominees Luncheon | Monday, February 8, 2016 |
| Final voting begins | Friday, February 12, 2016 |
| Scientific and Technical Achievement Awards presentation | Saturday, February 13, 2016 |
| Final voting ends | Tuesday, February 23, 2016 |
| 87th Annual Academy Awards presentation | Sunday, February 28, 2016 |