Shrek is a 2001 American computer-animated fantasy comedy film produced by PDI/DreamWorks, directed by Andrew Adamson and Vicky Jenson, featuring the voices of Mike Myers, Eddie Murphy, Cameron Diaz, and John Lithgow. It is loosely based on William Steig's 1990 fairy tale picture book with the same name, and somewhat serves as a parody film, targeting other films adapted from various children's fantasies.
Wins
Nominations
Plot
When a green ogre called Shrek discovers his swamp has been 'swamped' with all sorts of fairytale creatures by the scheming Lord Farquaad, Shrek sets out, with a very loud donkey by his side, to 'persuade' Farquaad to give his swamp back. Instead, a deal is made. Farquaad, who wants to become the King, sends Shrek to rescue Princess Fiona, who is waiting for her one true love. But once they head back with Fiona, it starts to become apparent that not only does Shrek like Fiona, but Fiona is keeping something secret.
Trailer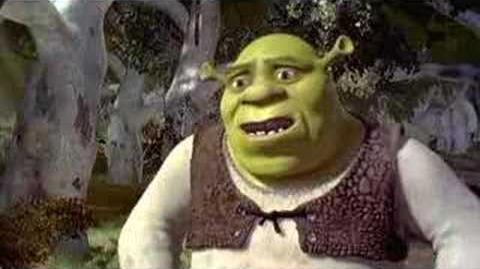 Gallery
Posters
Ad blocker interference detected!
Wikia is a free-to-use site that makes money from advertising. We have a modified experience for viewers using ad blockers

Wikia is not accessible if you've made further modifications. Remove the custom ad blocker rule(s) and the page will load as expected.