Stand by Me is a 1986 American coming of age drama film directed by Rob Reiner. Based on the novella "The Body" by Stephen King, the film takes its title from the Ben E. King song of the same name, which plays over the end credits.
Nominations
Plot
A tale of Gordie Lachance, a writer who looks back on his preteen days when he and three close friends went on their own adventure to find the body of a kid their age who had gone missing and presumed dead. The stakes are upped when the bad kids in town are closely tailing - and it becomes a race to see who'll be able to recover the body first.
Trailer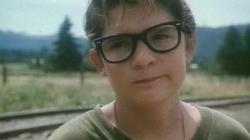 Gallery
Ad blocker interference detected!
Wikia is a free-to-use site that makes money from advertising. We have a modified experience for viewers using ad blockers

Wikia is not accessible if you've made further modifications. Remove the custom ad blocker rule(s) and the page will load as expected.