Star Wars Episode I: The Phantom Menace is a 1999 American epic space opera film written and directed by George Lucas. It is the fourth film to be released in the Star Wars saga, as the first of a three-part prequel to the original Star Wars trilogy, as well as the first film in the saga in terms of story chronology. The film was also Lucas' first production as a film director after a 22-year hiatus following the original Star Wars film, and only his fourth overall.
Nominations
Plot
The evil Trade Federation, led by Nute Gunray is planning to take over the peaceful world of Naboo. Jedi Knights Qui-Gon Jinn and Obi-Wan Kenobi are sent to confront the leaders. But not everything goes to plan. The two Jedi escape, and along with their new Gungan friend, Jar Jar Binks head to Naboo to warn Queen Amidala, but droids have already started to capture Naboo and the Queen is not safe there. Eventually, they land on Tatooine, where they become friends with a young boy known as Anakin Skywalker. Qui-Gon is curious about the boy, and sees a bright future for him. The group must now find a way of getting to Coruscant and to finally solve this trade dispute, but there is someone else hiding in the shadows. Are the Sith really extinct? Is the Queen really who she says she is? And what's so special about this young boy?
Trailer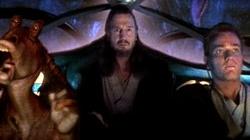 Gallery
Posters
Ad blocker interference detected!
Wikia is a free-to-use site that makes money from advertising. We have a modified experience for viewers using ad blockers

Wikia is not accessible if you've made further modifications. Remove the custom ad blocker rule(s) and the page will load as expected.