Sun Come Up is a 2010 documentary film on the relocation of the Carteret Islanders. The film showed at the 2010 Full Frame Documentary Film Festival on April 8, 2011. It was named as a nominee for the Academy Award for Best Documentary Short at the 83rd Academy Awards on January 25, 2011.
Nominations
Synopsis
Sun Come Up follows the relocation of the Carteret Islanders - a community living on a remote island chain in the South Pacific Ocean. When rising seas threaten their survival, the islanders face a painful decision: they must leave their beloved land in search of a new place to call home. The film follows relocation leader, Ursula Rakova, and a group of young islanders led by Nick Hakata as they search for land in war-torn Bougainville, an autonomous region of Papua New Guinea 50 miles across the open ocean. But many Bougainvilleans remain traumatized by the "Crisis" as the civil war is known locally. Nick Hakata and his fellow islanders meet a few sympathetic locals.
Trailer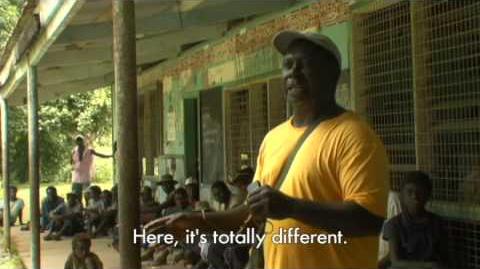 Gallery
Ad blocker interference detected!
Wikia is a free-to-use site that makes money from advertising. We have a modified experience for viewers using ad blockers

Wikia is not accessible if you've made further modifications. Remove the custom ad blocker rule(s) and the page will load as expected.