Thank God It's Friday


1 Nomination / 1 Win
Year
1978
Director
Robert Klane
Writer
Armyan Bernstein
Starring
Jeff Goldblum, Debra Winger,
51st Academy Awards

Thank God It's Friday is a 1978 film directed by Robert Klane and produced by Motown Productions Animation and Casablanca Filmworks for Columbia Pictures. Produced at the height of the disco craze, the film features The Commodores performing "Too Hot to Trot", and Donna Summer performing "Last Dance". The film features an early performance by Jeff Goldblum and the first major screen appearance by Debra Winger.
Wins
Nominations
Plot
It's Friday and everyone is going to the hot new disco. The Commodores are scheduled to play if Floyd shows up with the instruments and Nicole dreams of becoming a disco star. Other characters are there to win the dance contest, or to put a little excitement into a fifth anniversary.
Trailer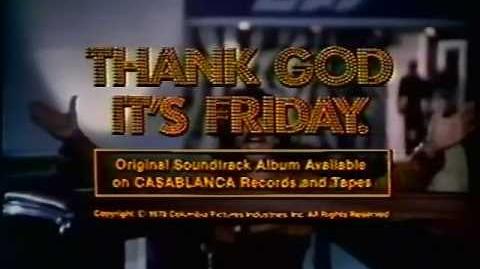 Gallery
Posters
Ad blocker interference detected!
Wikia is a free-to-use site that makes money from advertising. We have a modified experience for viewers using ad blockers

Wikia is not accessible if you've made further modifications. Remove the custom ad blocker rule(s) and the page will load as expected.