The Fantastic Flying Books of Mr. Morris Lessmore is a 2011 American animated short film by William Joyce and Brandon Oldenburg, created at Moonbot Studios in Shreveport, Louisiana. After winning over a dozen film festivals, the film won Best Animated Short Film at the 84th Academy Awards.
Wins
Nominations
Synopsis
Inspired, in equal measures, by Hurricane Katrina, Buster Keaton, The Wizard of Oz, and a love for books, The Fantastic Flying Books of Mr. Morris Lessmore is a poignant, humorous allegory about the curative powers of story. Using a variety of techniques (miniatures, computer animation, 2D animation) award winning author/ illustrator William Joyce and Co-director Brandon Oldenburg present a hybrid style of animation that harkens back to silent films and MGM Technicolor musicals. Morris Lessmore is old fashioned and cutting edge at the same time.
Trailer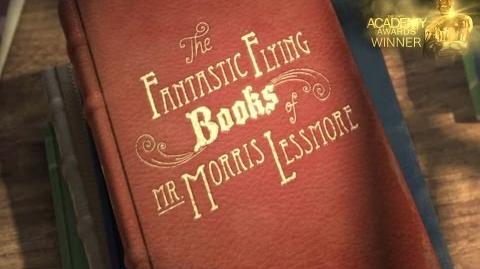 Gallery
Ad blocker interference detected!
Wikia is a free-to-use site that makes money from advertising. We have a modified experience for viewers using ad blockers

Wikia is not accessible if you've made further modifications. Remove the custom ad blocker rule(s) and the page will load as expected.