The Kids Are All Right is a 2010 comedy-drama directed by Lisa Cholodenko and written by Cholodenko and Stuart Blumberg. The film explores the results within a lesbian relationship when one of the couple's adopted children brings her formerly anonymous sperm donor into the family. The Kids Are All Right received four Academy Award nominations, including one for Best Picture, at the 83rd Academy Awards.
Nominations
Plot
Two teenaged children (Alice in Wonderland's Mia Wasikowska and Journey to the Center of the Earth's Josh Hutcherson) get the notion to seek out their biological father and introduce him into the family life that their two mothers (Bening and Moore) have built for them. Once the donor (Ruffalo) is found, the household will never be the same, as family ties are defined, re-defined, and re-re-defined. The New York Times raves that it's "a generous, nearly note-perfect portrait of a modern family," and Entertainment Weekly calls the movie "funny, smart and sexy!"
Trailer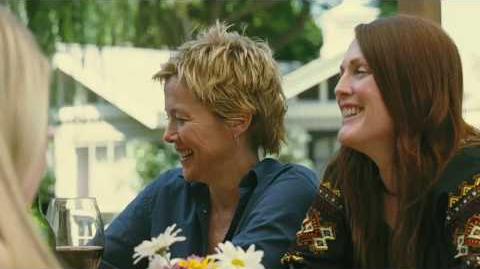 Gallery
Posters
Ad blocker interference detected!
Wikia is a free-to-use site that makes money from advertising. We have a modified experience for viewers using ad blockers

Wikia is not accessible if you've made further modifications. Remove the custom ad blocker rule(s) and the page will load as expected.