The King's Speech is a 2010 historical drama directed by Tom Hooper and written by David Seidler which won four Academy Awards and was nominated for an additional eight. Colin Firth plays King George VI who, to cope with a stammer, sees Lionel Logue, an Australian speech therapist played by Geoffrey Rush. The men become friends as they work together, and after his brother abdicates the throne, the new King relies on Logue to help him make a radio broadcast on Britain's declaration of war on Germany in 1939.
Wins
Nominations
Plot
After the death of his father King George V and the scandalous abdication of Prince Edward VII's, Bertie who has suffered from a debilitating speech impediment all his life, is suddenly crowned King George VI of England. With his country on the brink of war and in desperate need of a leader, his wife, Elizabeth, the future Queen Mother, arranges for her husband to see an eccentric speech therapist, Lionel Logue. After a rough start, the two delve into an unorthodox course of treatment and eventually form an unbreakable bond. With the support of Logue, his family, his government and Winston Churchill, the King will overcome his stammer and deliver a radio-address that inspires his people and unites them in battle.
Trailer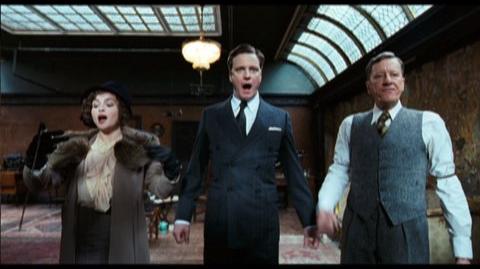 Gallery
Posters
Ad blocker interference detected!
Wikia is a free-to-use site that makes money from advertising. We have a modified experience for viewers using ad blockers

Wikia is not accessible if you've made further modifications. Remove the custom ad blocker rule(s) and the page will load as expected.