The Triplets of Belleville is a 2003 animated comedy film written and directed by Sylvain Chomet. It was released as Belleville Rendez-vous internationally. The film is Chomet's first feature film and was an international co-production between companies in France, the United Kingdom, Belgium, and Canada.
Nominations
Plot
Madame Souza, an elderly woman, instills in her grandson Champion (for who she acts as his guardian) a love of cycling. As a young man, he does become a dedicated road racer with his grandmother as his trainer. During a mountainous leg of the Tour de France in which Champion is racing, he goes missing. Evidence points to him being kidnapped. Indeed, he and two of his competitors were kidnapped, the kidnappers who want to use the threesome's unique skills for nefarious purposes. With Champion's overweight and faithful pet dog Bruno at her side, Madame Souza goes looking for Champion. Their trek takes them overseas to the town of Belleville. Without any money, Madame Souza and Bruno are befriended and taken in by three eccentric elderly women, who were once the renowned jazz singing group The Triplets of Belleville. The triplets help Madame Souza and Bruno try to locate and rescue Champion.
Trailer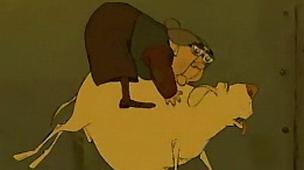 Gallery
Posters
Ad blocker interference detected!
Wikia is a free-to-use site that makes money from advertising. We have a modified experience for viewers using ad blockers

Wikia is not accessible if you've made further modifications. Remove the custom ad blocker rule(s) and the page will load as expected.