Time Freak is a 2011 short comedy film written and directed by Andrew Bowler, and produced by Gigi Causey, about a quirky New York inventor who makes a time machine and uses it to travel repeatedly back to yesterday to get a cascading series of minutia just right.
Nominations
Synopsis
The film stars John Conor Brooke, Michael Nathanson and Emilea Wilson. Brooke and Nathanson are roommates, but Nathanson hasn't been home for three days, so Brooke goes to Nathanson's lab in a run down building to check on him. Nathanson has just perfected the time machine he had been working on, but is behaving oddly. It turns out he has been re-doing the events of that morning, trying to perfect his interactions at a dry cleaner with a woman (Wilson) that he wants to impress.
Trailer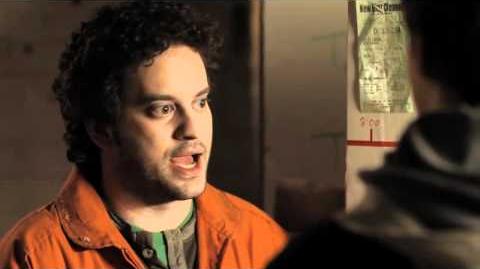 Gallery
Ad blocker interference detected!
Wikia is a free-to-use site that makes money from advertising. We have a modified experience for viewers using ad blockers

Wikia is not accessible if you've made further modifications. Remove the custom ad blocker rule(s) and the page will load as expected.