True Grit is a 2010 Western written and directed by the Coen brothers. It is the second adaptation of Charles Portis' 1968 novel of the same name, which was previously filmed in 1969 starring John Wayne. The film tells the story of U.S. Marshal "Rooster" Cogburn, who assists 13-year-old Mattie Ross in avenging the murder of her father. The film was honored with ten Academy Award nominations, including Best Picture, Best Director, Best Adapted Screenplay, and Best Actor for Jeff Bridges for playing the same roll that garnered Wayne his only Oscar.
Nominations
Plot
Fourteen-year-old Mattie Ross's father has been shot in cold blood by the coward Tom Chaney, and she is determined to bring him to justice. Enlisting the help of a trigger-happy, drunken U.S. Marshal, Rooster Cogburn, she sets out with him - over his objections - to hunt down Chaney. Her father's blood demands that she pursue the criminal into Indian territory and find him before a Texas Ranger named LeBoeuf catches him and brings him back to Texas for the murder of another man.
Trailer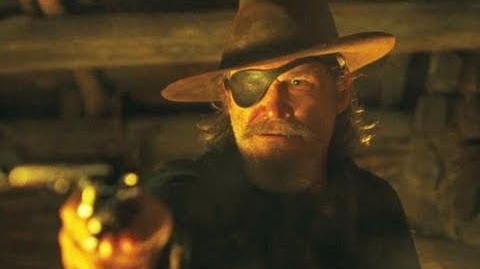 Gallery
Posters
Ad blocker interference detected!
Wikia is a free-to-use site that makes money from advertising. We have a modified experience for viewers using ad blockers

Wikia is not accessible if you've made further modifications. Remove the custom ad blocker rule(s) and the page will load as expected.