Waste Land is a 2010 documentary directed by Lucy Walker, João Jardim and Karen Harley. The original title is Lixo Extraordinário Portuguese for "extraordinary garbage".
Nominations
Synopsis
The film documents two years of work of Brazilian contemporary modern artist Vik Muniz in creating art with the cooperation of scavengers of recyclables working at Jardim Gramacho, one of the world's largest landfills, serving the metropolis of Rio de Janeiro in Brazil.
Together with people employed to pick out recyclable material from garbage, Muniz creates from actual landfill trash large-scale mosaic portraits that are sold at art auctions in London and exhibited at the Museum of Modern Art in São Paulo. The film portrays the lives of the garbage pickers and their working conditions as well as Muniz's efforts to help them to gain recognition and better living conditions.
Trailer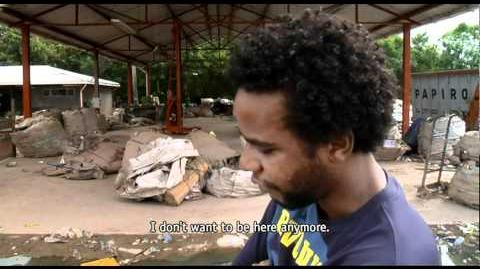 Gallery
Posters
Ad blocker interference detected!
Wikia is a free-to-use site that makes money from advertising. We have a modified experience for viewers using ad blockers

Wikia is not accessible if you've made further modifications. Remove the custom ad blocker rule(s) and the page will load as expected.